Morning Glory – My Birth Defect Awakens
Macular Edema (Fluid Under Retina)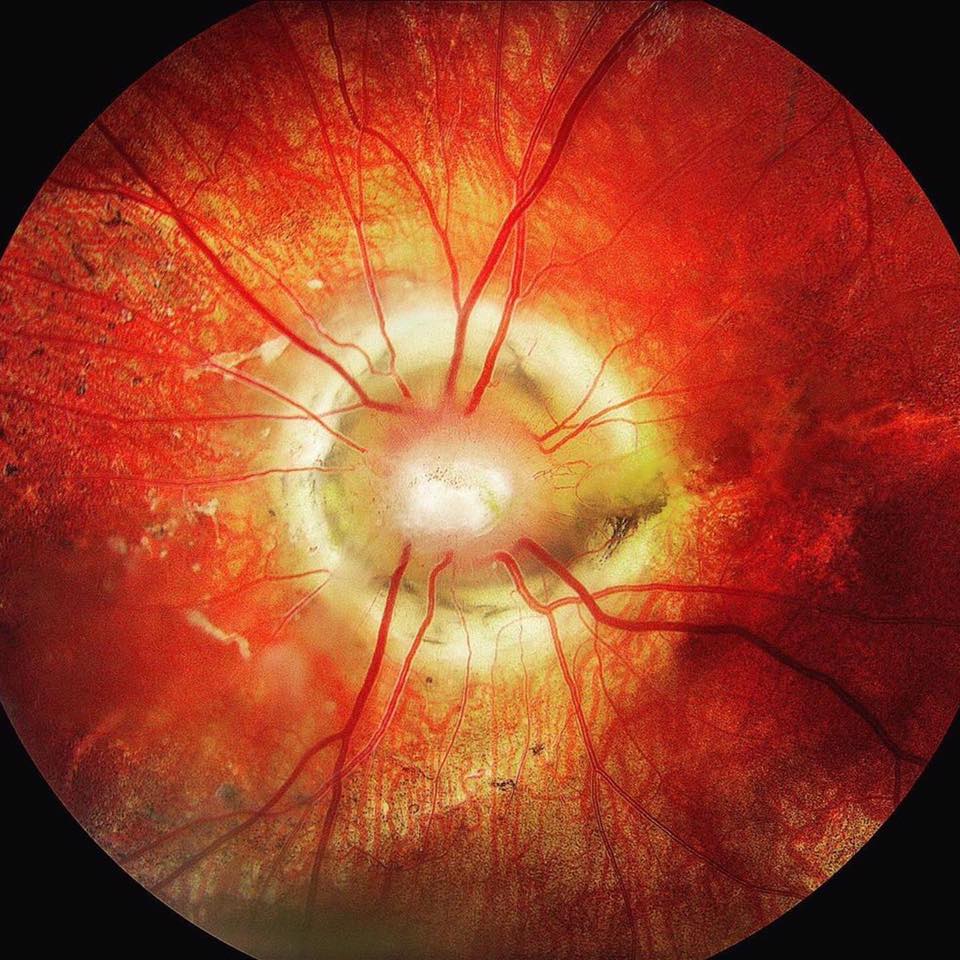 Morning glory syndrome (MGS) is a birth (congenital) defect of the nerve of the eye (optic nerve) that resembles a flower known as" morning glory. It is characterized by an enlarged, funnel-shaped cavity of the optic disc, the point in the eye where the optic nerve fibers leave the retina.
I was born with this.
I was born with this birth defect. Its been with me my whole life and is responsible for my vision to be diminished but has been minimal impact on me until now. My condition was dormant my whole life and correctable with a simple pair of glasses. However, a few days ago I suddenly noticed my vision change. While trying to understand what was going on, I alternately closed one eye, back and forth. I was able to determine it was my right eye. What I was seeing was a distorted view. Like a wave going down just to the right of center of my vision. Along with that is a cloud in the upper right quadrant.
As of right now, I cannot even identify the big E at the top of the eye chart. I cannot read anything even with glasses on in my right eye.
Of course I immediately sought medical assistance. The first thing I did was go to the emergency room to explain what was happening. The symptoms I shared left the possibility that I may have had a mild stroke. So I was hooked up to electrodes, they took my blood, they rolled me into a room where they did a CAT scan and a chest x-ray. Everything came back normal. The next step was to see a ophthalmologist. So the doctors made a phone call and cleared the way for me to see one immediately. When I arrived a the eye doctors office I was taken in with no delay, in front of everyone that had appointments. After a battery of tests they detected fluid above my right retina. They had exhausted the limits of there skillset and once again I was handed off to an elevated doctor. This time I was sent to a Retina Specialist. Another batter of tests. This time I was injected with a dye so they could get very good pictures of my optic nerve. After many more tests in this doctors office he sat me down and explained my condition with the pics he took along with what may be able to help me, along with a treatment plan.
The next phase of my treatment, the doctor ordered a MRI and a MRA of my brain. They want to continue to rule out a stroke and also the brain imaging (MRI, MRA is to rule out CNS (Central Nervous System) involvement, and other structural or vascular abnormalities. The MRI and MRA is still pending in 4 days while writing this.
A Normal Optic Nerve