Quite A Ride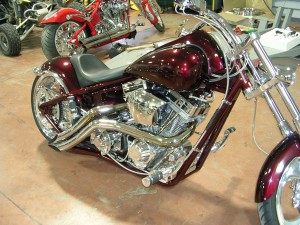 Today was significant for me.  Today I watched my pride and joy drive away on the back of a 63 year old man's flatbed truck.  I finally sold my Custom Chopper that I bought brand new back in 2005.  I paid 32,000.00 for this Easter Egg of a bike and sold it for 15,000.00 4 years later.  Quite a hit, but I had quite a ride.
I had alot of great memories on my chopper.  I rode alone most of the time starting out, but would end up riding with a bunch by the middle of the day.  I rode with different motorcycle clubs including the Booze-fighters and some others.  Not as a member but as a "Free Rider".  This means you ride but you don't belong to a club.  I also attended Myrtle Beach Bike week for 4 years in a row.
But it was time to sell the bike.  With 12,000 miles of memories, I think I got out cheap.  I did crash the bike once and went down hard, fracturing my right arm and a cracked skull and some shattered teeth.  I had to get 8 pins in my arm and a metal wrap.  My brain showed 8 "bleeders".  I ended up getting 4 root canals.   I also cracked my right eye socket.
But I have no regrets and will ride again.  As a matter of fact I will be buying a new 2010 Harley Davidson Road King in October of 2009.
Good time had, and Good times till ahead !
Ride On!