May 31st, 2009
Comments Off

on Spyware Protect 2009 Removal – UPDATE.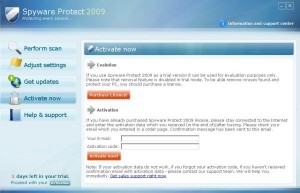 January 3rd, 2010 – Update.  This date my wife managed to become infected with this nasty spyware rogue program.  My usual fix was to run SpyBot but this was not working anymore.  Seems the nasty people that created the Rouge program "Spyware 2009" had improved their agenda by having not allowing Spybot to run.  After doing some additional research I found another fix that works for now.  You may or may not have heard of it.  Malwarebytes.  You can get this program by going to http://malwarebytes.organd downloading it.  You may find that you might have to use a different computer than the one that is infected.  I recommend you burn the setup.exe to a cd and then put that in the infected computer.  That way you wont "sneakerwalk" the  virus back to your working system.
_______________________________________________________________
Recently I upgraded my Internet Explorer from 7 to 8.  Big mistake.  Because IE 8 is so new there are many security holes that you will expose yourself too because the security updates have not been developed yet.
After installing I was immediately infected with  a rogue spyware program called "Spyware Protect 2009".  It runs at startup and falsely alerts you of all kinds of problems trying to entice you to buy their product. 
You will find all kinds of suggestions on how to get rid of this virus but I'm going to tell you the correct and simple way to get rid of it. 
Simply download this program and run it.  It will remove it and many other dangerous programs you dont even know you have.
http://www.safer-networking.org/en/download/index.html
Click the link above to install, click the link below for a great tutorial on how to use the software.
http://www.youtube.com/watch?v=xdKqwN61BJY
If you need help let me know.
Mickey