Elminate Hot Laptops and even Hotter Thighs.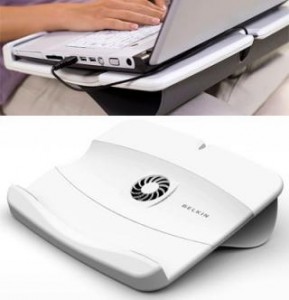 Hot Thighs is something you want to achieve from time well vested in the gym, not something you endure every time you use your laptop the way it was designed to be used.  On your lap.  Check out the picture on the left.  See the curved bevel underneat the laptop?  This is one of the best things of this paticular cooler.  Its a very simple design and its adjustable.  The soft curve you get when you adjust  is a really nice feel on your lap.  Additonally this is a quite running device and is well made.  You will find its even useful when you put the laptop to your side perhaps while your sitting on the couch.  You wont come back to find your laptop is burning up because its vents have been blocked by the couch.  I have been using this product for a while and its the best thing I have bought for my laptop since I can remember.  Not only does it keep my laptop running cool, the dual fans also keep your thighs cool while you are using your laptop.  The rounded adjustable bevel on the bottom is really comfortable.  This is a great purchase. 
Today I am recommending "The Belkin Cooling Lounge" as pictured here on the left.  I use it and its great.